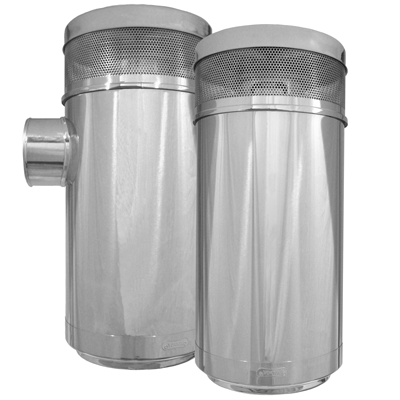 Truck Air Cleaners
From the vast Australian Outback to the cold of North East America, Vortox Truck Air Cleaners keep your truck engine running cleaner longer with their rugged and durable all T304 Stainless Steel construction, large dirt holding capacity, and Vortox pioneered design of an integrated Inlet Cap. All Truck Air Cleaners utilize a single stage inside/out flow design with center stud for ease of servicability. Used on conventional cab style trucks, Vortox Truck Air Cleaners are offered in 13″ and 15″ sizes. 15″ models have an airflow rating of 1600 CFM at 8″ H2O while 13″ models are rated at 1200 CFM at 8″ H2O. The 13″ models are designed to service out the bottom in order to avoid mirror arms, while the 15″ models follow standard top servicing. We do offer two 13″ models with top service availabiliy. In addition to being reliably durable, Vortox Truck Air Cleaners define classic looks and quality. Finished in highly polished No. 7 Stainless Steel that is unmatched in the industry, our Truck Air Cleaners are preferred among those in the trucking industry for adding classic beauty to any truck. Please refer to the chart below for truck compatibility.
Current Available Models:
SSB-AN130G, SSB-AN130Z, SSB-AN130M, SSB-AN130X, SSB-AN130P, SSB-AN130Y, SSB-AN150F, SSB-AN150G, SSB-AN150Z, SSB-AN150J
Note: Freightliner Models SSB-AN130K, SSB-AN130L have limited availability and are on a made to order basis.