---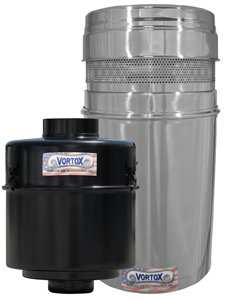 Air Filtration
Vortox Air Technology manufactures air cleaners for virtually any type of engine or compressor application across the globe. We offer complete engineering, testing, tooling, and manufacturing capabilities to suit both standard and custom applications. Our vast inventory of air cleaner designs allow us to design and manufacture essentially any product you may require. Oil Bath Air Cleaners that can accommodate air flow requirements from 100 to 1800CFM.
---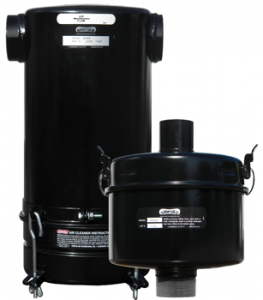 Air Separation
Air/Oil Separation is a core strength of our engineering capabilites. Many applications require the separation of oil in an air system; such as compressors, crankcase ventilation, brake systems, etc. Most separators are designed to tailor to unique applications, which is why we can be of service to you. Vortox Air Technology excels in producing solutions for custom air/oil separation applications.
---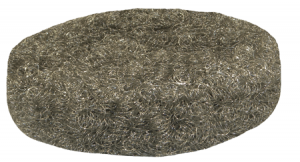 Coalescence Filtration
Vortox Air Technology has many years of experience and experience and expertise in coalescence filtration and separation. We provide solutions to applications where other forms of separation or filtration have failed. Our unique coalescing media is manufactured in-house and is made of galvanized coated and Stainless Steel wire (depending on application). Due to the use of steel media, high ambient heat applications do not affect performance, and service life can extend into years before a replacement is necessary. Additionally, we manufacture separators which are serviceable for the removal of separated fluids and debris.
---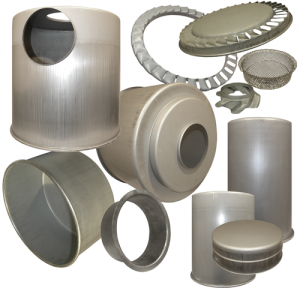 Deep Draw
Our ability to perform Deep Draw is the cornerstone of nearly our entire product line as well as many exclusive contracted products, as seen on the Contract Manufacturing page. We emphasize in the range of 12-24 gauge in a variety of metals such as Cold Rolled Steel, Electro Galvanized, Aluminum, Copper, Stainless Steel, and Inconel. Our tonnage capabilities currently reach 250 Tons with depth capabilities of 24″ (depending on various factors such as alloy, diameter, thickness, etc.).
To complete our product, we have the ability to polish our parts to one of the clearest and brightest finishes available. Our skill to tool, produce, and finish Stainless Steel is unparalleled in the industry. Others may claim to have the same capabilities, but our unique combination of talents make our products distinctive.
---
Plasma Welding
Vortox Air Technology;s two Plasma Welding machines can produce longitudinal welds on cylinders up to 36″ in length and 20″ in diameter. Our custom Plasma machines are equipped with fixtures to provide a "seamless" and continuous butt weld with 100% penetration. Exceptional control of the heat-affected zone minimizes deflection and carbide precipitation. Optimum thicknesses range from 22(.030) to 12(.105) gauge. We can also roll what we weld. Our Urethane cylinder rolling capability far exceeds traditional 3 rolling in quality and appearance.
---
Sheet Metal Manufacturing
Our skill reaches to final assemblies that include spot welding, seam welding, powder coat, and polishing. Vortox Air Technology has full welding and fabrication capabilities to meet any needs you may have. Arc, TIG, MIG, and Braze are all welding skills we possess and can integrate into fabrication or sheet-metal sub-assembly fabrication.