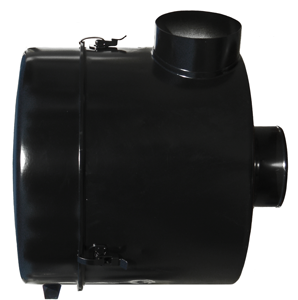 AU Dry Air Cleaners
AU style air cleaners are designed to meet the needs of moderate to heavy dust applications where horizontal mounting is required. AU styles are multistage air cleaners where a vertically mounted inlet tube and horizontal outlet tube are required. All AU style air cleaners are designed for outdoor use.
AU style air cleaners are constructed of Electro Galvanized Carbon Steel and finished in a black powder coating. Rigid and durable steel construction provides long life and years of continuous service in severe environments such as the on-highway, stationary engine, industrial, compressor, generator set, and irrigation industries.
An efficient first stage of dust removal is accomplished by spinning the dust to the end cap of the air cleaner where it is accumulated and ejected through the ejection valve. High capacity air filters are used to perform final filtration prior to entering the air intake stream.
All AU style air cleaners are made to accept Vortox Air Technology Inlet Caps, which remove large debris in the air and serve as a shield against rain. Additionally, all air cleaners can be mounted with Vortox Air Technology BB style Band Brackets.
Vortox Dry Air Cleaners
Vortox Air Technology Dry Air Cleaners are designed to protect your equipment and keep it performing to maximum efficiency. Superbly engineered and constructed to offer an extended service life of each replaceable filter element by utilizing a design philosophy which minimizes restriction losses. In addition to the distinguishing rugged construction, Vortox Air Technology air cleaners also utilize Deep Draw Technology, which creates a seamless unit, where possible.
Vortox Air Technology multistage Dry Air Cleaners use technology to maximize the efficiency of the first stage, prior to dusty air entering the filter element. This extends the service life of our filter elements, which means fewer filter changes for you.
Model Numbers Include
AU53A4, AU80A4, AU80F4, AU80G4, AU80H4, AU80J4, AU80K4, AU80L4, AU100A4, AU100D4, AU100H4, AU120A4, AU120B4, AU140A4, AU140B4, AU160A4, AU160C4, AU160E4, AU160F4
---