AN Dry Air Cleaners
AN style air cleaners are a single stage design which minimizes restriction and maximizes air flow and performance. AN air cleaners are used in moderately dusty environments where a multistage air cleaner is not required. Most models are designed for outdoor use and can be mounted horizontally or vertically.
AN styles are constructed of either Electro Galvanized Carbon Steel or T304 Stainless Steel, depending on model and usage. Rigid and durable steel construction provides long life and years of continuous service to the on-highway, stationary engine, industrial, compressor, generator set, and irrigation industries among others.
Select AN styles are made to accept Vortox Air Technology Inlet Caps, which remove large debris in the air and serve as a shield against rain. Other AN style air cleaners have inlet cap/screen protection built into the air cleaner design. Additionally, all air cleaners can be mounted using our BB style Band Brackets.
Vortox Dry Air Cleaners
Vortox Air Technology Dry Air Cleaners are designed to protect your equipment and keep it performing to maximum efficiency. Superbly engineered and constructed to offer an extended service life of each replaceable filter element by utilizing a design philosophy which minimizes restriction losses. In addition to the distinguishing rugged construction, Vortox Air Technology air cleaners also utilize Deep Draw Technology, which creates a seamless unit, where possible.
Vortox Air Technology multistage Dry Air Cleaners use technology to maximize the efficiency of the first stage, prior to dusty air entering the filter element. This extends the service life of our filter elements, which means fewer filter changes for you.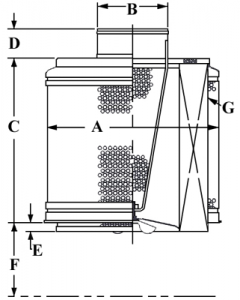 Dry Air Cleaners – AN Series:Single Stage
Model No.

CFM at
8″ H2O

CFM at
12″ H2O

A
(In.)

B
(In.)

C
(In.)

D
(In.)

E
(In.)

F
(In.)

Element No.

Net
Wt.
LBS

AN135AA

1800

2250

13.50

7.00

12.80

2.25

0.50

13.50

VF160AE

16.00

AN135H

1800

2250

13.50

7.00

12.80

2.25

0.50

13.50

VF160A

16.00

AN135T

1230

1500

13.5

5.00

12.80

2.56

0.50

13.50

VF160A

16.00

AN135V

1800

2250

13.50

7.00

12.80

2.80

0.50

13.50

VF160A

13.20
Type B
Model No.

CFM at
8″ H2O

CFM at
12″ H2O

A
(In.)

B
(In.)

C
(In.)

D
(In.)

E
(In.)

F
(In.)

Element No.

Net
Wt.
LBS

AN140AG

825

975

14.10

7.00

14.80

2.00

1.50

10.00

VF140A

16.80

AN140P

825

975

14.10

7.00

14.80

2.00

1.00

10.00

VF140A

16.80

AN140S

935

1750

14.10

6.00

14.80

2.00

1.00

10.00

VF140A

16.80
Type C
Model No.

CFM at
8″ H2O

CFM at
12″ H2O

A
(In.)

B
(In.)

C
(In.)

D
(In.)

E
(In.)

F
(In.)

Element No.

Net
Wt.
LBS

AN140C

1745

2272

14.00

10.50

16.60

2.25

0.62

14.00

VF160A

19.00

AN140E

1650

1940

14.00

9.75

13.30

0.62

0.62

14.00

VF160A

24.00

AN140F

1200

1450

14.00

8.00

18.80

0.62

0.62

14.00

VF160A

24.00

AN140G

1745

2272

14.00

12.30

13.30

2.50

0.88

14.00

VF160A

21.00

AN140H

1539

1845

14.00

9.00

13.30

3.00

0.87

14.00

VF160A

21.00
Type D
Model No.

CFM
at
8″ H2O

CFM
at
12″ H2O

A
(In.)

B
(In.)

C
(In.)

D
(In.)

E
(In.)

F
(In.)

Element No.

Net
Wt.
LBS

AN63A

346

500

6.12

3.00

8.81

1.50

7.81

7.64

VF80M

3.10

AN63D

100

125

6.25

1.00

8.81

7.00

7.81

7.64

VF80M

4.50

AN63E

180

225

6.25

2.00

8.81

4.00

7.81

7.64

VF80M

4.50

AN63F

346

500

6.25

3.00

8.81

3.00

7.81

7.64

VF80M

4.50
Type E
Model No.

CFM at
8″ H2O

CFM at
12″ H2O

A
(In.)

B
(In.)

C
(In.)

D
(In.)

E
(In.)

F
(In.)

Element No.

Net
Wt.
LBS

AN100L4*

N/A

N/A

10.10

3.50

12.00

2.00

1.00

8.75

VF100A

N/A

AN140M

836

1045

14.10

5.50

15.30

2.25

1.00

6.62

VF140A

17.00
*Ejection Valve Included
---